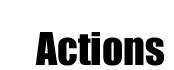 Besides the stadium activities we also glorify Legia on the Warsaw streets. We already have 3 poster actions on file. The first one was "Hoopa do klopa". The next two succeeded in hanging a few thousand posters about in the city, before the derby matches against Polonia. We also took part in the video shoot for the official song ("Do przodu Polsko") of the Polish national team for the Korea and Japan World Cup. All money we earned this way were utilized for the next game display.

In 2002 we came up with an idea of watching the Legia vs. Wisła match (which in fact decided of the league title) tv transmission with a use of a huge screen installed on the Legia stadium. This wasn't possible however for the legal issues. In exchange we hired a club, in which almost 1000 people gathered and we could watch the game together. The tickets were priced at 7 zlotys and all the money were utilized for the ultras purposes.

At the beginning of the spring round of the 2002/2003 season we started the "Full Stadium" action. It aims to encourage everybody willing to attend a Legia game to invite one person that doesn't plan on going to come along. The action was propagated by the "Nasza Legia" magazine, the "Życie Warszawy" newspaper and on numerous web sites. We also distributed match leaflets in the center of Warsaw. What was the effect? The first match, against Amica, was attended by 11 thousand people!